Timeusb 12.8V 50Ah Pro LiFePO4 Battery: The Perfect Deep Cycle Lithium Battery for Your Power Needs
In today's world, reliable and efficient power storage solutions are essential for a variety of applications, ranging from solar systems to home backup, RVs, caravans, and more. The Timeusb 12.8V 50Ah Pro LiFePO4 Battery is a high-quality battery that offers exceptional performance, durability, and safety. With its impressive features and capabilities, this battery is a game-changer in the power storage industry.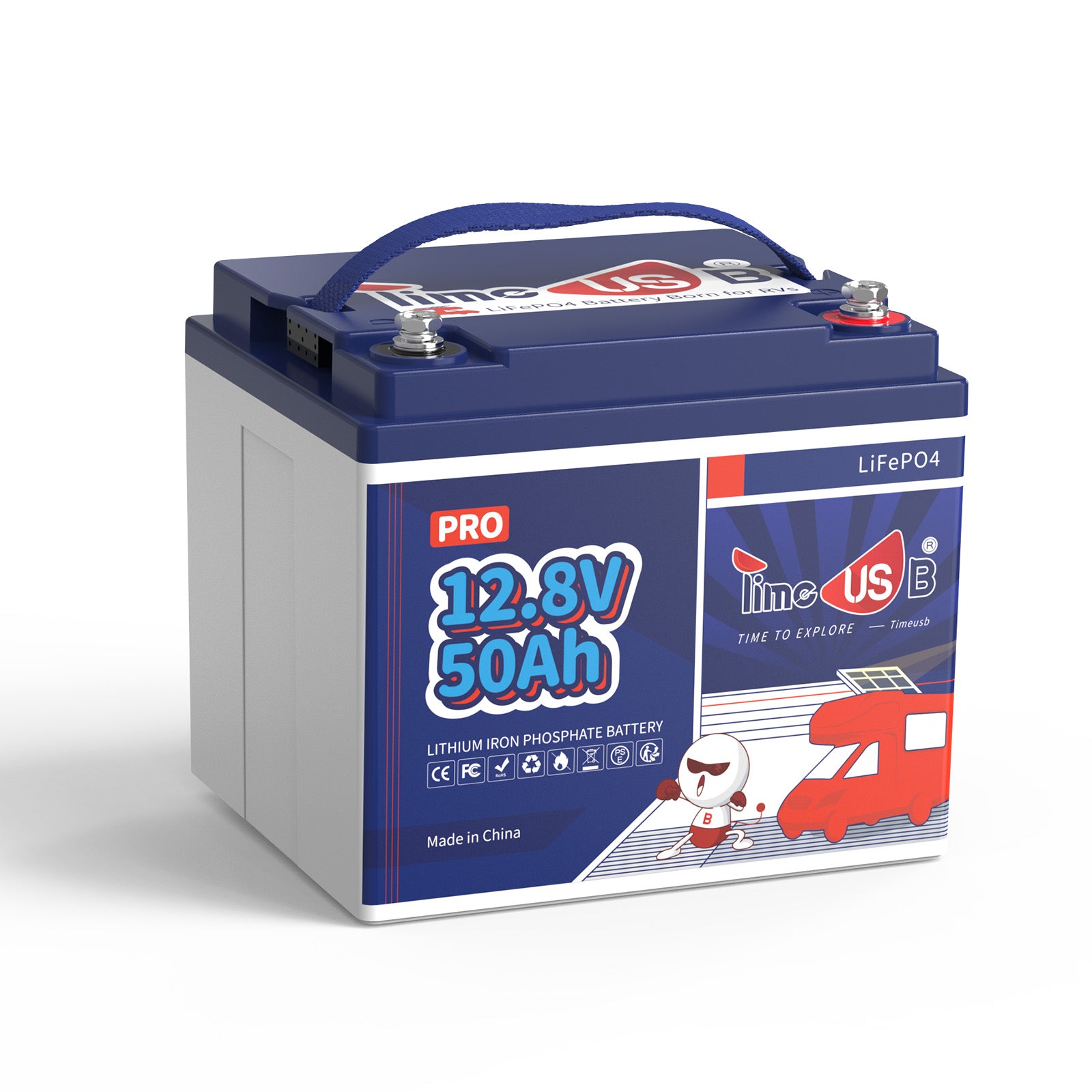 Grade A Battery Cells for Longevity:

One of the standout features of the Timeusb 12.8V 50Ah Pro LiFePO4 Battery is its use of grade A battery cells. These premium cells allow the battery to be cycled up to 4000 times, providing an estimated lifespan of up to 10 years. In fact, even at 80% depth of discharge (DOD), the battery can still be cycled over 6000 times, and at 60% DOD, it can reach an impressive 15,000 cycles. This outstanding longevity ensures that the Timeusb battery will reliably power your devices for an extended period.

Compact and Lightweight Design:

Weighing just 11.02 pounds, the Timeusb 12.8V 50Ah Pro Battery is incredibly lightweight and portable. Its compact dimensions (L6.53/W7.79/H6.69 inches) make it suitable for various storage compartments in RVs, campers, overland vehicles, and travel trailers. Despite its small size, this battery packs a punch with an energy density of 57Wh/lb, delivering efficient power in a compact package.

Reliable and Safe Battery Management System (BMS):

Safety is a top priority when it comes to power storage, and the Timeusb 12.8V 50Ah Pro Battery excels in this regard. Despite its small size, it features a full-size BMS (Battery Management System) that provides 100% safety guarantees, similar to other models in the Timeusb product line. The built-in 50A BMS offers five types of protection: overcharging, over-discharging, overcurrent, short circuit, and high temperature. When the environmental temperature exceeds 60°C/140°F, the BMS will automatically cut off power to ensure safety.

Expandable Capacity for Versatile Applications:

The Timeusb 12.8V 50Ah Pro Battery offers flexible and expandable battery connections, allowing for a maximum of four batteries in series and four batteries in parallel. This means that you can create a battery system with a maximum capacity of 10.24kWh and a maximum power output of 10.23kW using 16 units of 12.8V 50Ah Pro batteries. This flexibility makes it suitable for various storage requirements, including solar systems and off-grid battery systems. By fully utilizing space and energy, you can tailor the battery system to meet your specific needs.

Efficient Delivery and 24-Hour Customer Service:

Timeusb takes pride in its efficient delivery and exceptional customer service. With a responsive and professional customer service team, they provide targeted battery solutions within 24 hours of receiving your questions or inquiries. Additionally, their highly effective after-sales and delivery team ensures that customers in the United States receive Timeusb LiFePO4 Batteries within 2-7 working days, allowing you to quickly start benefiting from their reliable power storage solutions.

Conclusion:

The Timeusb 12.8V 50Ah Pro LiFePO4 Battery is a top-of-the-line power storage solution that offers exceptional performance and reliability. With grade A battery cells, a compact and lightweight design, a reliable BMS for safety, expandable capacity, and excellent customer service, this battery is perfect for a wide range of applications, including solar systems, home backup, RVs, caravans, and more. If you're in need of a deep cycle lithium battery that delivers consistent power and durability, the Timeusb 12.8V 50Ah Pro Battery is the perfect choice.
---